It's the new age of the digital world and e-wallet payment is in the spotlight. Over the last couple of years, e-wallet has been sprouting thick and fast in Malaysia and doesn't seem to be slowing down anytime soon.
The increasing trend of e-wallet in the country is in line with the central bank's aims for Malaysia to be a cashless nation by 2020. Bank Negara Malaysia has issued licenses to more than 40 e-wallets so far.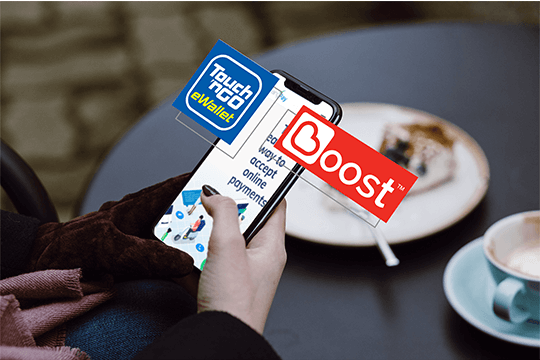 E-Wallet payment becomes widely accepted at retail stores, F&B outlets, supermarkets, and even small vendors also accepted to receive the payment. Some e-commerce platforms also accepted e-wallet as payment methods such as Lazada, Carousell, Zalora, etc.
SenangPay New Features
An e-wallet payment enables merchants to receive payments from e-wallet users. This allows merchants to further expand their business in this cashless era where more and more users are using e-wallet as an alternative to cashless payment.
SenangPay has a new feature where merchants can use e-wallet as one payment method and it starts on 19 October 2020. However, this feature is available for free only for all Advance and Special Package subscribers. If Basic Package subscribers want the features, they need to upgrade to Advance or Special Package.
Currently, SenangPay only receiving payment from Boost and Touch-n-Go e-wallet. But, SenangPay is in process of expanding its choices with another e-wallet.
What are the Charges of E-Wallet Payment and How is the Settlement?
SenangPay is charging 1.5% or a minimum charge of RM0.65 in any transaction that customers made through supported e-wallet providers.
For settlement, SenangPay will automatically transfer merchants' money as usual on every Wednesday and Friday. However, if the withdrawal day happened to become a public holiday, SenangPay will transfer the money on the next working day. There is no charge for every scheduled settlement made to merchants' accounts.
If you interest in making an e-commerce website, just email me at [email protected] and I'll get back to you to discuss. You also can look and play around with our e-commerce demo.
If you're interested in having us integrate SenangPay into your website just email [email protected] and I'll get back to you to discuss the process. 
You can read the article below how the process your client purchase using SenangPay e-wallet payment in our e-commerce platform:
E-Wallet Payment: 6 Steps To Use SenangPay E-Wallet
You also may play around with the sample page we set up on our demo which had to integrate with SenangPay.